[Lyrics + english] SCANDAL - Rainy | Single Departure
» [HOW TO DOWNLOAD]
lirik lagu scandal rainy lyrics mp3 download, download lagu scandal rainy lyrics single departure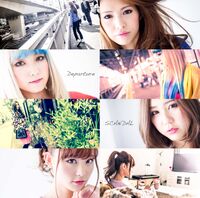 (COVER Single Departure - Regular Edition / image from generasia.com)
[Lyrics + english] SCANDAL - Rainy | Single Departure
.
Rainy (Hujan)
adalah lagu milik band girl pop rock
SCANDAL
yang berada dalam
[Single] SCANDAL - Departure
, merupakan single mayor ke-18 mereka (ke-21 termasuk indie) yang dipublikasikan pada 23 April 2014 dalam 3 edisi yaitu CD edisi reguler dan 2 CD+DVD edisi terbatas tipe A dan B. Selain lagu Departure Single ini mempunyai 1 lagu coupling yang mengisi track kedua yaitu lagu yang ditulis oleh RINA (Drummer) berjudul
Rainy (Hujan)
, lagu ini digunakan sebagai
Theme song Trailer dari movie berjudul The Mortal Instruments: City of Bones
. Selain itu juga terdapat 1 track lagi dalam CD single ini yaitu versi instrumental dari lagu Departure. 2 bonus DVD dalam single ini dijadikan 2 tipe yaitu edisi terbatas tipe A dan B, tipe A selain CD yang berisi 3 track diatas juga terdapat DVD yang berisi video
"BEST★X'mas5" ~SPECIAL SELECTION VIDEO Vol.1~ (Awanai Tsumori no, Genki de ne, LOVE SURVIVE , Space Ranger)
sementara tipe B berisi video
"BEST★X'mas5" ~SPECIAL SELECTION VIDEO Vol.2~ (SCANDAL BABY , Queens Are Trumps , DOLL)
. Edisi reguler single ini dihargai sebesar 1,020 yen sementara edisi terbatas 1,500 yen, dalam chart mingguan Oricon single ini berhasil menempati posisi #5 dan bertahan dichart selama 10 pekan.
Untuk mendownload lagunya silahkan kepostingan
[Single] SCANDAL - Departure
,
Lyrics + english translation SCANDAL - Rainy
ROMAJI
Shimekitta heya de hitorikiri
Ame wa yousha naku mado wo tataiteru
Soko de itsumade furueteru ki?
Fumidasu koto kowagatte

Chiisaku yureru kyandoru no hi
Shizuka ni moeru kimi no kokoro no you
Chotto setsunai mainichi wo
Makenai you ni ikiru shikanai
Tokei no hari ga ima ugokidasu

Reinii reinii
Ame wa yamanakute mo (Oh...)
Sora wo miagete
Atarashii sekai e tobikome (Oh...)
Hajimete mina yo Believe in yourself

Tachidomatte mo aruiteite mo
Onaji supiido de jikan wa sugite yuku

Mizutamari ni ochiru hanabira
Tsugi no kisetsu ga sekashiteiru ka no you
Nantonaku yarisugoshita
Kyou ni koukai shiteru hima wa nai
Tokei no hari ga mata kasanatta

Reinii reinii
Ame ni utarete mo (Oh...)
Asu ni mukaou
Saikou no imeeji dake daite (Oh...)
Koete misete yo Believe in yourself
TRANSLATE
All alone in a closed up room
The rain mercilessly strikes the windows
How long will you keep trembling there?
You're afraid to step forward

The flame of a candle trembles
Like your quietly burning heart
All that you can do to not give in to the slightly painful days
Is to keep living
The hands of the clock move to "now"

Rainy, rainy
Even if the rain doesn't stop (Oh...)
Look up to the sky
And jump into a new world (Oh...)
Start to believe in yourself

Even if you come to a stand still, even if you walk on
Time passes by at the same speed

Flower petals fall into puddles
As if rushing into the next season
They somehow let it pass by
Today there's no time to feel sorry for yourself
The hands of the clock overlap again

Rainy, rainy
Even if you're lashed by the rain (Oh...)
Face tomorrow
And embrace only the best image (Oh...)

Show that you'll get through it; believe in yourself
* lyric translate from sukyandarudaisuki.blogspot.co.id
Lihat label
SCANDAL
untuk melihat dan mendownload lagu SCANDAL lainnya
[CONTACT ME]
Jika ada yang Error!