[Lyrics + english] ASIAN KUNG-FU GENERATION - Eien ni | Single World Apart
» [HOW TO DOWNLOAD]
lirik lagu asian kung-fu generation Eien ni mp3, asian kungfu generation Eien ni lyrics english single world apart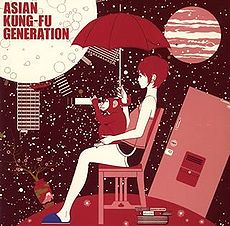 (Cover Single World Apart / image from generasia)
[Lyrics + english] ASIAN KUNG-FU GENERATION - Eien ni | Single World Apart
.
Eien ni
adalah lagu milik band rock asal Jepang
ASIAN KUNG-FU GENERATION
yang berada dalam
[Single] ASIAN KUNG-FU GENERATION - World Apart
, merupakan single ke-8 mereka yang dipublikasikan pada 15 Februari 2006 seharga ¥1,223. Lagu utama dalam single ini
World Apart
ditulis dan dikomposeri oleh vokalis utama band ini Gotou Masafumi. Single World Apart mempunyai 2 lagu coupling yang menemani lagu World Apart, track kedua berisi lagu
Eien ni
. Lagu ini juga mereka masukkan kedalam album best pertama
Feedback File
yang mengisi track ke-11, album best ini dirilis pada 25 Oktober 2006. Dan track ketiga berisi lagu
Uso to Wonderland
, lagu ini merupakan lagu rekaman pertama AKG dimana Kensuke Kita (gitaris utama) bertindak sebagai vokalis utama, lagu ini juga masuk dalam album best
Feedback File
sebagai track ke-10. Single ini menempati posisi #1 dalam chart Oricon, dan merupakan pertama kalinya pada waktu itu single ASIAN KUNG-FU GENERATION memuncaki chart Oricon. Single ini bertahan di chart selama 7 pekan dengan total penjualan mencapai 73,025 keping copy.
Untuk mendownload lagunya silahkan kepostingan
[Single] ASIAN KUNG-FU GENERATION - World Apart
lyrics + english translation ASIAN KUNG-FU GENERATION - Eien ni
ROMAJI
Sā, ima
`ima ga subete'
son'na uso mo sudeni kako ka
kurai jidai mitaina nyūsu
shiranai yo
boku wa koko sa
yume mitaina hanashi wa yume no yō ni kiete nakunatta
tōku tsudzuku michi o boku wa kakenukete
sono sakini wa don'na sekai ga aru nodarou
nanigenai hi no haigo kara shinobiyotte
mimiuchi de tsugeru futashika yami no shōtai
yūutsu?
TRANSLATE
You say now,
"Now is everything."
Has that lie also slipped into the past?
The news makes everything look so dark
And I don't know,
But here I am.
A dream-like conversation will fade away like a dream
I'm running down this never-ending road
And I wonder what kind of world I'll find at the end?
I was tipped off by an uncertain darkness
Sneaking up on me from behind when I stopped paying attention
Depression?
Lyric translate from jpopasia
Lihat label
ASIAN KUNG-FU GENERATION
untuk melihat dan mendownload lagu AKG lainnya
[CONTACT ME]
Jika ada yang Error!