[Lyrics + english] SCANDAL - OVER | Album HONEY
» [HOW TO DOWNLOAD]
lirik lagu scandal OVER lyrics mp3 download, download lagu scandal OVER lyrics english translation 2018 album honey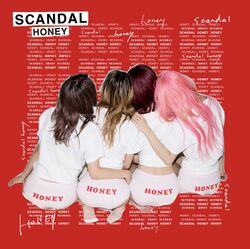 (COVER Album HONEY - Regular edition / image from generasia.com)
[Lyrics + english] SCANDAL - OVER | Album HONEY
.
OVER
adalah lagu milik band girl pop rock
SCANDAL
yang berada dalam
[Album] SCANDAL - HONEY
, merupakan album ke-8 mereka yang dipublikasikan pada 13 Februari 2018 dalam 3 versi yaitu CD edisi terbatas dilengkapi T-Shirt (¥5,700), CD+DVD edisi terbatas (¥3,700), dan CD edisi reguler (¥3,200). Sebuah album yang mengekspresikan alur pita manis & pahit namun glamor yang berisikan lagu yang diciptakan oleh para personil SCANDAL. CD album HONEY berisikan 7 lagu baru dan 3 lagu yang sebelumnya sudah mereka rilis. Lagu OVER ditulis oleh RINA (Drum) dengan musiknya dikomposeri oleh MAMI (gitar), lagu ini merupakan track kedua dalam album SCANDAL yang berkolaborasi dengan seorang ikon fashion yang mewakili TOKYO bernama AMIAYA. Dia mendesain T-shirt yang tersedia dalam CD+T-shirt edisi terbatas album ini, karya seni dalam album ini juga merupakan kolaborasi dari mereka. Sebagian besar 10 lagu dalam CD album ini bertemakan cinta, cerita sentimental dan menyakitkan. Album kedelapan mereka ini dikemas dengan hal-hal yang hanya bisa mereka ekspres karena menjadi band all-girl yang memiliki pesona tersendiri.
Untuk mendownload lagunya silahkan kepostingan
[Album] SCANDAL - HONEY
,
Lyrics + english SCANDAL - OVER
ROMAJI
Nante ieba yokatta no?
Imadani kotae wa nai mama
Kootta kioku wa tokete namida ni natta
Mamorenakatta yakusoku no kazu dake
Tsunoru kodoku ni makesou de
Yasashisa wo utagau tabi ni kurushikute
Kimi wo tebanashita
Mou nidoto kimi ni aenai kedo
Wasurerareru hi nante konai to omou
Demo kitto kore de yokattanda
Konna watashi wo yurushite hoshii
Chirakatta heya no naka de
Kawai mo naku futari de ita
Kotoba nanka nakutatte
Wakariaeru nante uso datta
Aruki nareta shizuka na kaerimichi
Shiroi iki ga fuyu wo tsugeru
Myou ni akarui tsuki ni tsutsumarete
Kimi wo ugabeta
Mou nidoto konna suki ni nareru
Hito ni deatta hi nante konai to omou
Tada koi wo koete shimattanda
Dakedo watashi wa kawarenakatta
Marude onaji hibi ga ashita kara mo
Tsuzuite yuku mitai datta
Saigo no saigo made itsumo no you ni
Kimi to waratta
Mou nidoto kimi ni aenai kedo
Wasurerareru hi nante konai to omou
Uketorenakatta yume no katachi wo
Tsugi no aite ni watashite hoshii
TRANSLATE
What should I have said?
While still not having an answer
My frozen memories melted and turned into tears
With only the number of promises I couldn't keep
I'll lose out to this growing loneliness
It pained me every time I doubted your kindness
And I let you go
I'll never see you again
But the day I'll be able to forget you will never come
But I'm okay with that
I want you to forgive me for this
In a messy room
The two of us remained silent
Being able to understand each other
Without needing words was a lie
On the quiet way back home I'm used to walking
My white breath informed me of winter
The strangely bright moon enveloped me
And you came to mind
The day I'll be able to meet someone
Who I could fall in love with like this again will never come
Our love was more than ordinary
But I wasn't able to change
It was as if the same days continued on
From tomorrow too
At the very end you smiled
Just as always
I'll never see you again
But the day I'll be able to forget you will never come
I want you to pass on
The dream I couldn't understand to your next partner
* lyrics translate from jpopasia
Lihat label
SCANDAL
untuk melihat dan mendownload lagu SCANDAL lainnya
[CONTACT ME]
Jika ada yang Error!